Posted on Tuesday, December 18th, 2018 at 6:13 pm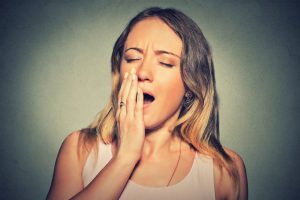 A study published in Menopause, the journal of the North American Menopause Society, found that self-reported severe or very severe vasomotor symptoms (VMS), otherwise known as night sweats or hot flashes, were associated with intermediate to high risk for obstructive sleep apnea (OSA) in midlife women. The study used the Snoring-Tired-Observed-Pressure-BMI-Age-Neck-Gender (STOP-BANG) questionnaire to evaluate 2,935 women seen in the Women's Health Clinic at Mayo Clinic in Rochester, Minnesota, between May 2015 and December 2016.
The study evaluated the OSA and Menopause Rating Scale (MRS) of 1,691 of these women. Logistic regression was used to compare total MRS and VMS ratings, while body mass index (BMI), age, and smoking were included as covariates between women at intermediate or high risk versus low risk for OSA.
Evaluating OSA Risk Among Women with Night Sweats
VMS is among the most commonly reported symptoms of menopause. VMS is often characterized by increased blood flow to the face, chest, or neck. A 2012 study published in the International Journal of Women's Health found that VMS occurs in up to 68.5 percent of women as a result of menopause.
VMS symptoms can vary their intensity and frequency greatly, with some women experiencing these symptoms indefinitely. VMS treatment often involves estrogen alone or used in combination with progestin.
According to the study, the total MRS scores were much higher in women with intermediate or high-risk OSA scores as opposed to those with low-risk scores. The study found that women with intermediate or high OSA risk were older, less likely to be married or employed, and had more education, self-reported hypertension, and BMI greater than 35 kg/m2.
Self-reported severe or very severe VMS cases were significantly associated with intermediate or high risk versus low risk for OSA, according to the study. The odds of having intermediate or high risk for OSA were 1.87 times higher for those with severe or very severe VMS compared with those with no, mild, or moderate VMS after adjusting for age, BMI, smoking status, and self-reported hypertension.
Mayo Clinic faculty member Stephanie Faubion, M.D. said that OSA is frequently thought of as a man's disease, but cautioned that the risk for women increases in their menopausal years. Faubion noted that many symptoms, such as headache, depression, or fatigue, may not be visible but still carry just as many health risks.
Get Sleep Apnea Help Today
The study cautioned that OSA risk might have been overestimated because of the limitations of the STOP-BANG tool. According to the Mayo Clinic, 65 percent of the women who demonstrated an intermediate or high risk of OSA was still not diagnosed with the condition two years after clinical consultation when VMS was self-reported.
Left untreated, OSA can involve serious health issues such as increased risks of stroke, coronary heart disease, and high blood pressure. Silent Night Therapy can help you find the solutions to your sleep apnea issues. Let us offer a solution as soon as you call (631) 983-2463 or contact us online today.
---
Posted on Monday, December 3rd, 2018 at 7:23 am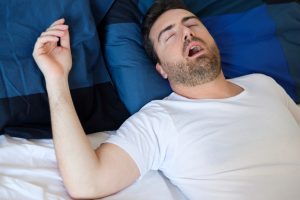 A May 2018 study, published in the Journal of the American Geriatrics Society found that 56 percent of 1,052 participants who completed a National Health and Aging Trends Study (NHATS) sleep module were estimated to be at high risk of obstructive sleep apnea (OSA). Only 8 percent of the high‐risk individuals had been tested for OSA despite 94 percent of those individuals being diagnosed with OSA.
The study stated that its purpose was "to determine the proportion of older Americans at risk for OSA in a large, representative sample of Medicare beneficiaries and to characterize the national scope of gaps in OSA evaluation, diagnosis, and treatment in these at‐risk individuals." The NHATS sleep module is similar to the Snoring-Tired-Observed-Pressure-BMI-Age-Neck-Gender questionnaire commonly abbreviated simply as STOP-BANG.
OSA Study
The study estimated that the 1,052 participants the NHATS sleep module was administered to corresponded to 7,082,963 Medicare beneficiaries. Based on this evaluation, 3,948,716 people, or 56 percent, were believed to be elevated OSA risk.
Of the group, 3,633,571, or 94 percent, had no evaluation. Of the 315,145 who got either polysomnography (PSG) or home sleep apnea testing (HSAT) evaluations, 295,307, or 94 percent, had an OSA diagnosis. Of those diagnosed with OSA, 53,703, or 18 percent, sought no treatment while 241,603 received OSA treatment.
STOP-BANG questionnaires often ask respondents the following:
Snore — Do you snore loudly? Snoring is perhaps the most common symptom of sleep apnea.
Tired — Do you feel tired during the day? Fatigue is a common symptom in many sleep apnea cases.
Observed — Has anybody observed you stopping breathing during sleep? Many people are unaware they may have stopped breathing while sleeping, but a spouse or other loved one may have noticed this very concerning sign.
Pressure — Have you been or are you being treated for high blood pressure? Sleep apnea can actually cause elevated blood pressure.
BMI — Is your body mass index more than 35 kg/m2? BMI is a measure of fat based on a person's height and weight, and overweight individuals are more likely to suffer from sleep apnea.
Age — Are you older than 50 years of age? A study published by the American Thoracic Society (ATS) stated that sleep-related difficulties become common with age and found the prevalence of sleep apnea to be 3.2 percent in adult men 20 years of age to 44 years of age, 11.3 percent in adult men 45 years of age to 64 years of age, and 18.1 percent in adult men 61 years of age to 100 years of age.
Neck — Is your neck circumference greater than 16 inches or 41 centimeters if you are a female, or 17 inches or 43 centimeters if you are a male? A larger neck means more potential obstruction for an airway.
Gender — Are you a man? Men are two to three times more likely than women to have sleep apnea.
The Journal of the American Geriatrics Society study found a weighted proportion that was 57 percent female and 43 percent male, with 53 percent of participants being married and 45 percent being unmarried. Of the participants:
13 percent were between 65 years of age and 69 years of age
30 percent were between 70 years of age and 74 years of age
21 percent were between 75 years of age and 79 years of age
17 percent were between 80 years of age and 84 years of age
12 percent were between 85 years of age and 90 years of age
7 percent were 90 years of age or older.
Get OSA Help Today
Silent Night Therapy helps people all over New York with sleep apnea issues. Call (631) 983-2463 or contact us online to see how we can help you, and schedule an appointment with us today.